Commercial Septic Services

Commercial Septic Pumping
Commercial facilities using on-site Septic Systems should setup regular pumping as preventative maintenance.  Schedule today by calling (616) 396-5512.

Commercial kitchens have grease traps installed to assist with separating FOG (fats, oils, & grease) from entering the sewer system.

Hydro Jetting or Line Jetting uses high pressure water to remove sewer line backups caused by grease, sludge, and even tree roots.
Commercial Septic Tank Pumping
Van's Septic Service provides commercial septic tank pumping to businesses of all sizes for cost-effective waste removal solutions. If your business requires regular pumping be sure to ask for our "frequent pumping" discount. We can also create a maintenance schedule which accommodates seasonal hours and fits into your budget.
This will differ for every commercial customer and depends upon the volume of expected wastewater.  If unsure on your volume of wastewater, we recommend doing regular septic system inspections for a while and then developing a pumping schedule based on the results.
You should be able to pull county permits and find the location of your drain field. Commercial customers should protect this area by fencing it off to ensure vehicles, delivery trucks, and other heavy equipment don't damage your drain field.
Commercial kitchens usually have a grease trap to assist with keeping fats, oils, & grease (FOG) out of our septic system.  It's important to educate your kitchen staff on how to properly dispose of FOGs.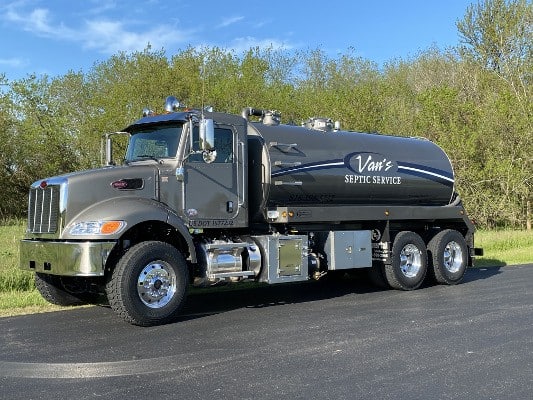 Schedule Your Commercial Tank Pumping Today!
We provide grease trap cleaning and maintenance for restaurants, retirement homes, and businesses throughout West Michigan. If you are looking for a reliable grease trap cleaning service in Holland, Michigan, contact us today at (616) 396-5512.
Reasons for Routine Grease Trap Maintenance
Full grease traps can and do spill into community water systems and the fines for this far out ways the cost of regular maintenance.
Clogged lines can affect your business with unpleasant odors and dirty grease traps are often the culprit.  The Environmental Protection Agency (EPA) estimates grease accounts for nearly half of all reported blockages.
Fats, oils, & grease are extremely flammable and dirty grease traps can become a potential fire hazard for your place of business.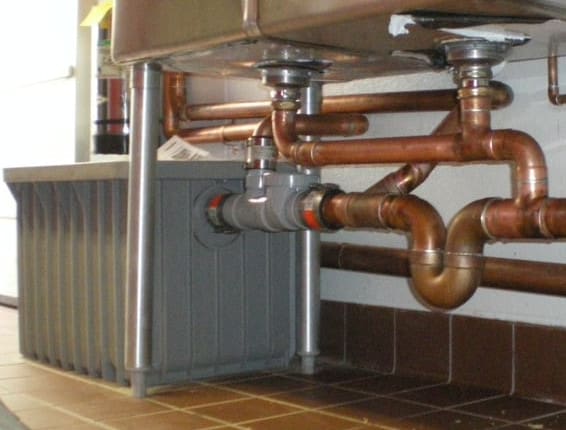 Having Septic Tank Issues?
Hydro Jetting Clogged Drains
Is your business experiencing a clogged drain or major backup? Van's Septic Service offers high pressure water jetting (hydro jetting) services to remove even the toughest clogs. Hydro jetting uses a high pressure water in combination with a specifically designed nozzle.  Grease, hair, and other mineral build-up are effectively removed.
Hydro jetting is a method trained professionals use to clean slow sewage lines.  The process involves pushing high-pressure water (2-4 thousand PSI) through your drain to remove blockages.
A drain snake (sometimes referred to as an auger) is a long steel cable designed to break up basic clogs. Unfortunately, a drain snake doesn't usually clean the entire pipe.
A hydro jet is designed to not only break up the clog but can also remove any material building up inside your pipe from common minerals and grease.  Another major difference is concerning the effectiveness of clearing tree roots.  Augers (drain snakes) can cut holes through tree roots but a hydro jet is capable of cutting through roots up to a quarter inch in diameter.